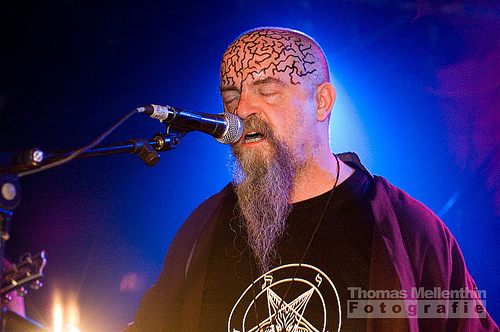 Update: I submitted this photo to the photofriday-challenge 'Blessing'. This is somehow ironic, but I couldn't resist 😉
Root beim No Mercy Festival 2007 im Postbahnhof (Mehr Bilder gibt es wie immer bei flickr). Ich hatte fest damit gerechnet im Fotograben arbeiten zu können und war etwas enttäuscht, als ich dann vor der Bühne stand. Das Festival fand im kleinsten Raum des Postbahnhofes statt, es gab keinen Fotograben und ich musste aus dem Publikum fotografieren. Das Hauptproblem dabei ist, eine gute Fotoposition zu finden, bei der keine Hände und Köpfe ins Bild geraten. Meistens kann man jedoch während des gesamten Konzertes fotografieren und ist nicht auf die ersten drei Lieder beschränkt.
Bei Root war es noch extrem leer, ich konnte mich frei vor der Bühne bewegen und ganz in Ruhe meine Bilder machen. Blitzen war auch nicht verboten, das ist bei kleinen, schlecht beleuchteten Bühnen natürlich von Vorteil, außerdem hat man mehr kreative Möglichkeiten, als ohne Blitz.
Camera Model: NIKON D70
Lens: Nikon Nikkor 50mm 1:1.8
Focal Length: 50.00 mm
Focal Length (35mm Equiv): 75 mm
Exposure Time: 1/60 sec
F-Number: f/2.8
Shooting mode: Shutter priority
Exposure bias: -2/3 EV
Flash: Yes
ISO: 1000
Image at flickr, large version