Meine Congressnotizen. Informationsgehalt 0.23%
Erschreckende Resultate der BioP II Studie. Fazit: die Technik ist unausgereift, wird aber vorangepeitscht. Es wurde eine False Rejection Rate (FRR) von bis zu 23% bei Wenignutzern ermitelt. Das bedeutet, bis zu 23% der Reisenden scheitern an der biometrischen Grenzkontrolle. Manche Personen werden zu 100% zurückgewiesen. Senioren sind eine Problemgruppe, der Abrieb an den Fingerkuppen und die Alterung (Gesichtserkennung) der Probanden machen Schwierigkeiten. Die Studie ist extrem beschönigt.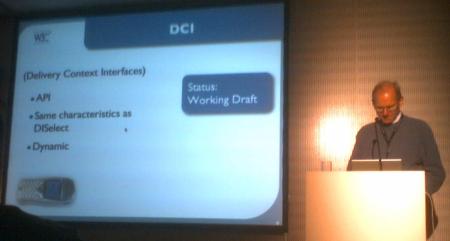 Weiter geht es mit W3C on Mobile, CSS, Multimodal and more, also dem Netz auf Mobilgeräten. Bert Bos gibt einen Überblick über aktuelle Entwicklungen im W3C.
Sehr interessant fand ich EXI – Efficient XML Interchange, was sich mit "binärem XML" übersetzen lässt. EXI nutzt XML-Strukturen für Binärdaten. Anwendnungen wäre z.B. Streaming von Video oder Audiodaten. Der Zugriff kann direkt auf die Datenstrukturen erfolgen, ohne einen Parser mit großem Memory-Footprint anzuwerfen (Natürlich kann man XML komprimieren (mod_gzip), für eine Dekomprimierung bräuchte man z.B. noch mehr Speicher.). Das ist ein sehr frühes Stadium, die Arbeitsgruppe hat erst vor einer Woche begonnen sich des Themas anzunehmen.
Ich sehe als Problem die Sicherheit: die wenn Binärdaten ungeprüft (ungeparst) in den Speicher geschrieben werden, ist Polen offen.
Hacking CCTV dreht sich um die Fragen, was man mit drahtlosen Kameras im Polizeieinsatz anstellen kann. In Wien (?) wurden auf dem Schwedenplatz Kameras installiert, deren Bild via Funk übertragen und analog im "Ü-Wagen" der Polizei aufgezeichnet wird. Watching the watchers: schauen wir doch mal, was bei der Polizeit im Fernsehen läuft.
Astra-Analog sendet auf etwa 11 GHz, der LNC konvertiert das auf 1-2 GHz und die standard-Sat Receiver empfangen bei ~950-2150 MHz. Oh, das ist ja fast bei 2.4 GHz 🙂 Bessere Receiver gehen von 700MHz bis 2742MHz, kostet bei ebay neu ~15 Euro, gebraucht 1.5 Euro. Z.B. Telestar/Technisat SatPlus SP2. Ok, muss nur noch eine Antenne angeschlossen werden, ggf. noch ein Macrovision-Optimierer ("Verschlüsselung") und schon haben wir das Bild im Kasten.
Nachtrag: Auf Spargel-Online findet sich ein ausführlicher Bericht zu dem Hack.